Sweetness & Blood
Moore writes in a spirit close to Bruce Chatwin's 'In Patagonia.'
New York Times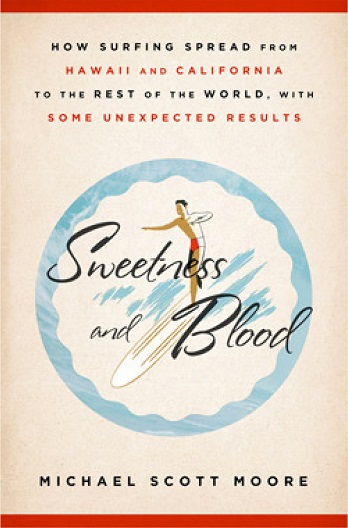 Named a book of the year by The Economist and Popmatters in 2010
First published by Rodale in 2010

How did an obscure tribal tradition from pre-colonial Hawaii — nearly eliminated by Christian missionaries — jump oceans to California and Australia? How did it become a world sport, and how does it clash with cultures in corners of the earth where the surf might be excellent but the society is highly traditional, or superstitious about the sea?
In a series of travel essays, Mike visits a number of surf destinations — Israel, the Gaza Strip, West Africa, Great Britain, Germany, Indonesia, Japan, Cuba, and Morocco — to find out. The result is a surprising look at how modern surfing became a major American export, like Hollywood or rock 'n' roll, mingling with cultures that should have every reason to ignore a pop phenomenon that started, more or less, in Mike's hometown.

Surfmobile on Japan's Chiba Coast, 2008
He explores each country with a simple goal: to find out who surfed there first. His wandering introduces him to the roots of the 2002 nightclub bombings in Bali, the challenge to communism posed by surfing in Cuba, and the hazards of surfing an accidental wave in Munich's municipal river system.
"Not since William Finnegan's definitive New Yorker pieces on the sport has there been a more compellingly written, thoughtful, and affecting look at the call of the wave," says the jacket copy.

Praise
What he has done, subtly and beguilingly, is write a book about surfing that often is not really about surfing but about simply being alive (and, in some cases, dead).
Andy Martin,
New York Times Book Review
Sweetness and Blood is a lively tour de force of travel writing and enterprising research that tells the truly fascinating story of surfing's spread into unlikely corners of the globe.
Francisco Goldman,
author of The Art of Political Murder: Who Killed the Bishop? and The Long Night of White Chickens
A wild, passionate and thrilling ride; in the company of Pacific princes, beatnik athletes and outlaw longboarders, Michael Scott Moore catches surfing's global wave through a sweeping history of America's most liberating, taut and tanned cultural export. Glorious!
Rory MacLean,
author of Magic Bus: On the Hippie Trail from Istanbul to India
Follows in the tradition of the best travel writing … Moore's meditations on surfing are more insightful, and less ponderous than Daniel Duane's Thoreau-inspired Caught Inside; and his style less worshipful and more entertaining than William Finnegan's New Yorker story about San Francisco's surfing doctor Mark Renneker.
Kevin Cody,
The Easy Reader
[He] burrows into each locale with a keen ear for dialogue and a bullshit detector set to 'stun' … The clarity of his prose leaves us hungry for Moore.
Sweetness and Blood reveals a great deal about the evolution of surfing but even more about the currents of globalization — which are as complex and as hard to fathom as those of the ocean itself. There is a remarkable character, a surprising bit of history and a fresh insight on every single page of this wonderful book.
Ethan Watters,
author of Crazy Like Us: The Globalization of the American Psyche
A fantastic book … One of the best reads ever about the spread of surf culture.
Peter Townend,
first-ever world surf champion
Moore's vibrant, immersion-journalism travelogue is more than merely 'an entertaining look at how modern surfing became a major export like Hollywood' … but a sharp-eyed exploration of geo-politics, globalization, cross-cultural influences, and the common mythology of youth (and surfers) worldwide.
Michael Scott Moore has delivered a perfect tale, filled with adventure, insight, and exquisite turns of phrase. For those who think surfing is just some Cali boys running around saying 'dude,' he shows that wherever there's water, from Munich to the Gaza Strip, taking a ride on it means freedom — and the siren call is universal.
Deanne Stillman,
author of Mustang: The Saga of the Wild Horse in the American West
Michael Scott Moore's moving personal hejira through wave-riding's undiscovered back country is a constantly surprising and emotional ride … It proves both surf culture's truly pervasive influence, and how the world of waves — wherever they may be, and whoever rides them — leads to the heart of the world itself.
David Rensin,
author of All For A Few Perfect Waves: The Audacious Life and Legend of Rebel Surfer Miki Dora
Sly and understated … Part of his accomplishment is finding the right words, a precise, workaday poetry that manages to describe in a way that feels both wholly right and totally original.
The most fun, riskiest, most joyful, highest form of travel lit. Everyone will have their favorite chapter and section. Like Theroux combined with the best part of the best travel story of vintage Granta magazine.
Joy Nicholson,
author of The Tribes of Palos Verdes
A wonderful and engaging book … It combines folk history, pop art and great, old-fashioned travel writing in a fun-filled tale of surfing's global conquest … A must-read for anyone interested the sport.
Steven Kotler,
author of West of Jesus
A lively global jaunt that will offer some surprises even for the heartiest of wave-riding experts.
It's a lovely ride, a sweet story told with a lilt.
Warm, smart, funny, and beautifully written. Sweetness and Blood goes off the beaten surf-path to give us a bigger, more interesting surf world.
Matt Warshaw,
author of The History of Surfing