Too Much of Nothing
A truly accomplished and absorbing debut.
Stewart O'Nan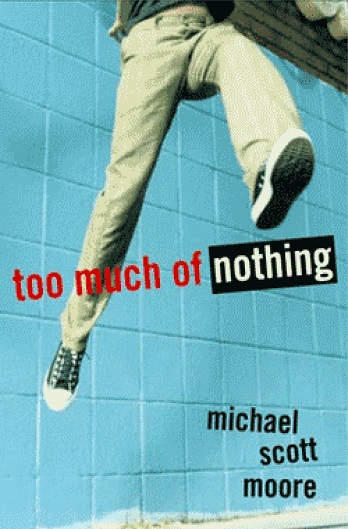 First published by Carroll & Graf in 2003
Too Much of Nothing is a ghost story told from the droll point of view of Eric Sperling, a teenager who competes with his friend Tom for a girl and finds himself, to his utter surprise, killed in a fit of rage.
Eric survives as a Jewish ghost, a nefesh, in the beach town where he grew up and tells about the last months of his life in 1984. He gives an account of his time as a gawky high-school shlemiel trying to surf, appreciate the Dead Kennedys, and grasp the vagaries of American counterculture. The book is set in a fictional town called Calaveras Beach.
Here's a fictional map: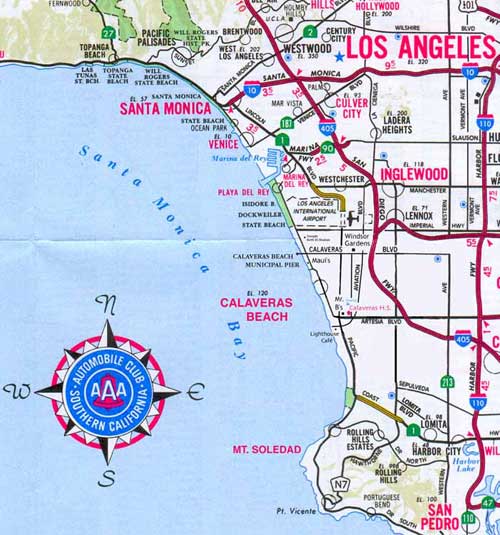 ...with apologies to the California AAA

The title comes from an old Dylan song:

Everybody's doin' somethin'
I heard it in a dream
But when there's too much of nothing
It just makes a fella mean

Praise
Too Much of Nothing is a clever and merciless look back at teenaged friendship, and at two boys' jaded coming of age in mid-'80s L.A. Michael Scott Moore's dead hero recalls all of the romantic terrors and joys of high school with a wry, cold eye.
Stewart O'Nan,
author of A Prayer for the Dying and The Night Country
A beautiful novel that manages to be scary, funny, and absolutely compelling. Moore's talent for transporting the reader into the very heart of his fictional California surf town is astonishing. I love this book.
Joy Nicholson,
author of The Tribes of Palos Verdes
Moore's fierce wit and vivid narrative deliver a heady cocktail of friendship, youth, and betrayal worthy of the Korova Milkbar.
A cool-handed debut. The style is simple, the language everyday — but the details and dialogue cut glass-sharp and often bone-deep.
A first novel that deserved hardcovers … A prosperous beginning for San Francisco-based reporter and stage critic Moore.
A satisfying bildungsroman, combining a wry but heartfelt take on teen passions with a serious ethical concern for the fine line between freedom and nihilism.
Beautifully imagined … A unique and heartrending view into a west-coast beach town teeming with punks, surfers, drug dealers, and a lone nefesh. Michael Scott Moore has, as they say, announced his presence with authority.
Lee Durkee,
author of Rides of the Midway
A taut, gripping tale of murder animated by rabbi-wisdom and Reagan-era pop culture, Too Much of Nothing is a smart, vibrant, and utterly original novel … Moore tenderly excavates the heart of an adolescent haunted by angst and longing.
Rebecca Donner,
author of Sunset Terrace
Moore has written a novel close to Gimpel the Fool meets The Falcon and the Snowman — a sometimes funny story about a sensitive ghost who while alive and sixteen in the '80s tried, but failed, to enjoy the Dead Kennedys, and got a nosebleed after snorting too much good blow … There is an ailing and strange loneliness in the prose most powerfully felt by those who have survived grief, who have some distance from the tedious obsessions of youth.
Joe Loya,
author of The Man Who Outgrew His Prison Cell
Moore knows the cruelties meted out by children to other children, the bizarreness of first sexual encounters, the offhanded betrayal of friends.
Ethan Watters,
author of Urban Tribes and Crazy Like Us
A talented stylist. He renders the local landscape with a poet's eye … [and] captures the milieu of high school well, too, its crystal-clear delineations of class and coolness.
A hell of a ghost story.
Joe Weisberg,
author of 10th Grade (a novel) and The Americans (a TV series)